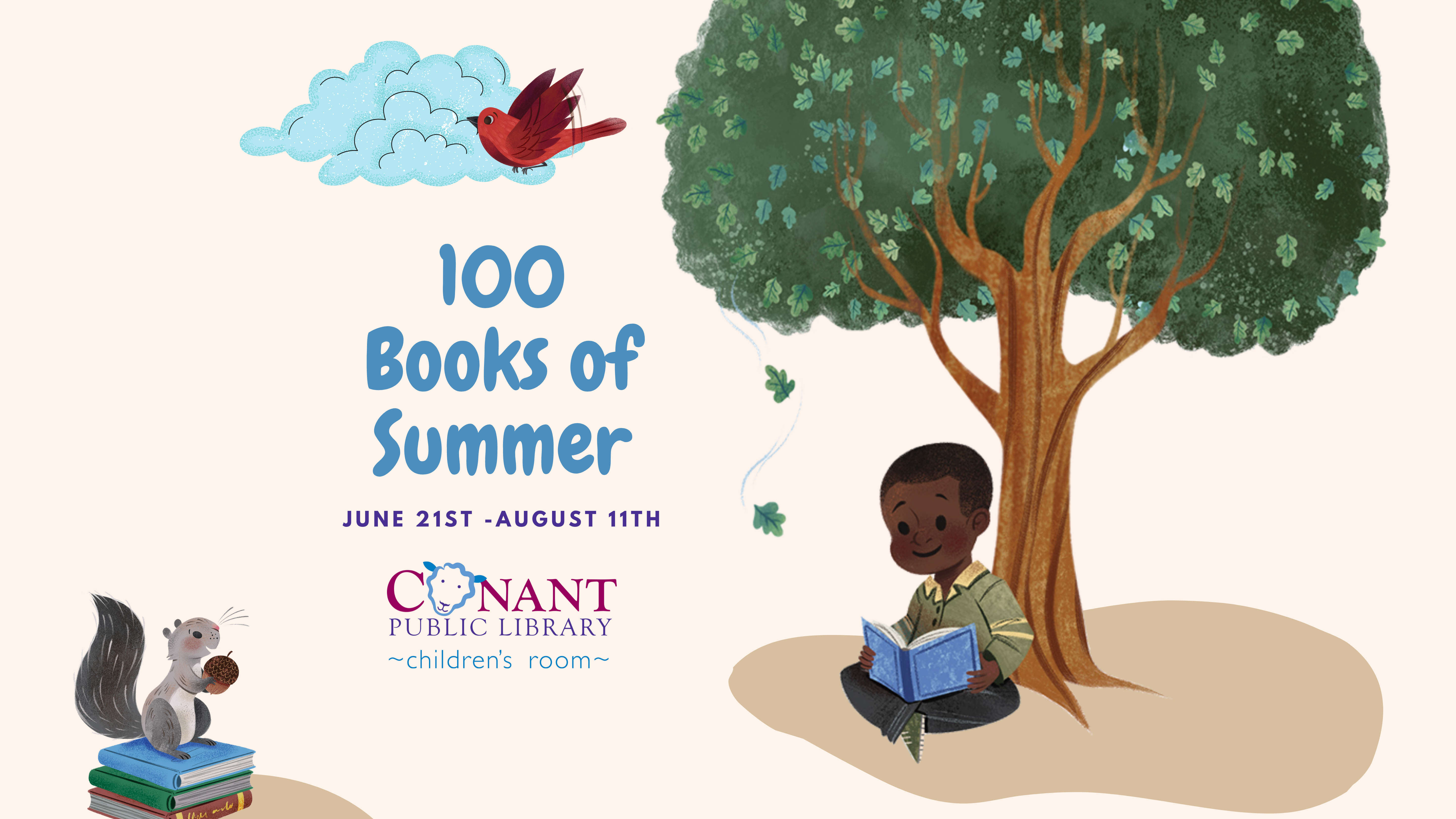 ---
100 Books of Summer
Books can take us anywhere - what paths will you choose to read on this summer? The Conant Public Library challenges children and families to join us in the 100 Books of Summer Reading Challenge! Stop by the Children's Room to pick up a list of 100 of our favorite children's books and start checking them out. Read all 100, or mix and match with some of your own favorites (remember that listening to books also counts!), and turn in your completed list by August 11th to earn a prize and a special recognition at the library!
For more information, please call the Conant Public Library in Sterling at (978) 422-6409.
Click here for a printable checklist of books in case you misplace your copy.
Take a look at the list of links below to place holds in the CW MARS catalog if needed. We will, however, have a limited number of each title already available for checkout at the library - no holds required. Check with us for availability.
---
Ada and the Galaxies By Alan Lightman
Alan's Big, Scary Teeth By Peter Jarvis
Amos McGee Misses the Bus By Philip C. Stead
Attack of the Underwear Dragon By Scott Rothman
Bad Cat By Nicola O'Byrne
Bathe the Cat By Alice B. McGinty
Big Bunny By Rowboat Watkins
Big Ship Rescue By Chris Gall
Blanket: Journey to Extreme Coziness By Loryn Brantz
Bob, Not Bob! By Liz Garton Scanlon
The Book of Rules By Brian Gehrlein
Busy Beaver By Nicholas Oldland
Charlie Chooses By Lou Peacock
Chez Bob By Bob Shea
Chickens to the Rescue By John Himmelman
Come Home Already! By Jory John and Benji Davies
Crash Splash Moo By Bob Shea
The Creature of Habit By Jennifer Smith
Crocodile Hungry By Eija Sumner
The Digger and the Duckling By Joseph Kuefler
Dinosaurs on Kitty Island By Michael Slack
Do You Know Which Ones Will Grow By Susan Shea
Don't Worry Little Crab By Chris Haughton
The Donkey Egg By Janet Stevens
Ducks Run Amok By J. E. Morris
Except Antarctica By Todd Sturgell
Five Minutes By Liz Garton Scanlon
Fix That Clock By Kurt Cyrus
Forty Winks By Kelly DiPucchio
Giraffe and a Half By Shel Silverstein
Girl versus Squirrel By Hayley Barrett
Go Sleep in Your Own Bed! By Candace Fleming
Go! Go! Go! Stop! By Charise Harper
Goat's Coat By Tom Percival
Gorillas in our Midst By Richard Fairgray
Group Hug By Jean Reidy
Hamsters Make Terrible Roommates By Cheryl B. Klein
The Hike By Alison Farrell
Hiking Viking By Laura Gehl
How to Give Your Cat a Bath in Five Easy Steps By Nicola Winstanley
Hurry Up By Katie Dopirak
I am Not a Penguin By Liz Wong
I am the Longest Dog By Avery Monsen
I Can Only Draw Worms By Will Mabbitt
I'm Not Scared, You're Scared By Seth Meyers
If I had an Octopus By Gabby Dawnay
Invent-a-Pet By Vicky Fang
Jeff Goes Wild By Angie Rozelaar
Lala's Words By Gracey Zhang
The Little Blue Cottage By Kelly Jordan
The Littlest Yak By Lu Fraser
The Lonely Giant By Sophie Ambrose
Look! Look! Look! By Nancy Elizabeth Wallace
Maybe ... By Chris Haughton
Miles of Smiles By Karen Kaufman Orloff
The Missing Pairs By Yvonne Ivinson
Moose's Book Bus By Inga Moore
Mucky Truck By Ammi-Joan Paquette
My Pillow Keeps Moving! By Laura Gehl
Nigel and the Moon By Antwan Eady
No Nibbling! By Beth Ferry
The Nonsense Show By Eric Carle
Not a Stick By Antoinette Portis
The Octopus Escapes By Maile Meloy
Off-Limits By Helen Yoon
Oh, Daddy By Bob Shea
One of These is Not Like the Others By Barney Saltzberg
Over Bear, Under Where? By Julie Hedlund
Peacock and Sketch By Allan Peterkin
Penguin and Pinecone By Salina Yoon
The Perfect Siesta By Pato Mena
Poe Won't Go By Kelly DiPucchio
The Rabbit, the Dark and the Cookie Tin By Nicola O'Byrne
Return of the Underwear Dragon By Scott Rothman
Rhyme Crime By John Burgerman
Rooting for You By Susan Hood
The Runaway Pea: Washed Away By Kjartan Poskitt
The Salamander Room By Anne Mazer
The Serious Goose By Jimmy Kimmel
The Smart Cookie By Jory John
Snap! By Hazel Hutchins
Snappsy the Alligator By Julie Falatko
Sunrise Summer By Matthew Swanson
Tea Time By Beth Ferry
The Thank You Letter By Jane Cabrera
That's How! By Christopher Niemann
Theo Thesaurus: The Dinosaur Who Loved Big Words By Shelli Johannes
There's a Unicorn in Your Book By Tom Fletcher
The Think-Ups By Claire Alexander
This is a Taco By Andrew Cangelose
This is a Whoopsie By Andrew Cangelose
Underwear! By Jennifer Harney
Walk on the Wild Side By Nicholas Oldland
What Matters By Alison Hughes
Where is Bina Bear? By Mike Curato
Whole Whale By Karen Yin
With Any Luck, l'll Drive a Truck By David Friend
Wonder Walkers By Micha Archer
XO, Exoplanet By Deborah Underwood
---